Davington Schoolhouse
DAVINGTON SCHOOLHOUSE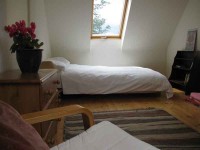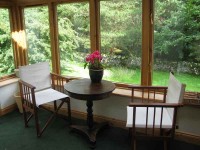 Davington Schoolhouse is a family run self catering business 2 miles north of Samye ling, just a short twenty five minute walk or 3 minutes by car. 
The schoolhouse can sleep up to 6 people in total, there is a double room with a double bed, 2 single rooms and a sofa bed located in the large living area which could be ideal for a large group or family.There is one small bathroom which has a shower and a toilet. Downstairs there is a small kitchen with working fridge freezer and cooker. The large living room is an extremely comfortable room with high ceilings 2 comfortable sofas, a wood burner and an oak wood floor with underfloor heating, very cosy in the winter. 
The schoolhouse can be rented on a private room basis in which case the rest of the accommodation is shared. Alternatively the schoolhouse can be rented as a whole.
As a family we live next door with our 2 small children cat and chickens. Although we are next door the Schoolhouse entrance is completely separate, there is a large garden and surrounding walks. 
Kirsten is a holistic therapist and is available should you wish to receive, shiatsu, Indian head massage or acupressure massage on site during your stay.
To book please call Kirsten and Nick on 013873 73794 or 
e-mail:Â davingtonschoolhouse@googlemail.com
Alternatively you can find us on Airbnb and book there.