Samye Ling Garden Project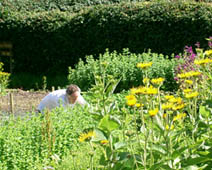 The Samye Ling Garden has gone from strength to strength over the years, and now includes a medicinal herb garden, over an acre of vegetable beds, cold frames and two green houses, complete with flourishing grape vine and fruit trees. Not forgetting our cosy shed built with recycled railway sleepers. At 700 feet above sea level and with reputedly the highest rainfall in the country, the thriving garden effectively demonstrates what can be achieved under such challenging conditions.
All this is relies on help of volunteers and visitors are welcome to participate with all the usual seasonal activities, whether it is mowing the lawns, stacking compost or simply a spot of weeding. If you are interested in learning more about horticulture in depth, follow the links below for information on courses. You can also contact us at gardenproject@samyeling.org

The Tara Healing garden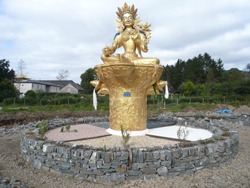 The Tara Healing Garden is dedicated to the 21 emanations of Tara and will preserve and propagate medicinal herbs native to Tibet that can be cultivated in the climate of the Scottish Borders. Each of the 21 emanations of Tara has the power and the qualities to overcome 21 different kinds of physical and mental disease. Therefore 21 different herbs connected with these different aspects will be planted in separate petal shaped beds around the central statue of Tara. This statue was consecrated at 7 o' clock in the morning on the seventh day of the seventh month of 2007.
The completed garden will be 40 yards in diameter and will be designed as a twenty one petalled lotus, each petal consisting of a raised bed built in stone, with broad paths radiating from the central statue in each of the four directions. Each lotus petal will be planted with medicinal herbs whose colour corresponds to the mandala of Green Tara; and the remaining meadow planted with trees, shrubs and an orchard of native fruit trees.
read more..
Fruit and Vegetables
The Samye Ling Garden produces organically grown food for the Centre, the local community and visitors. We try to keep the garden a pleasant place to work and relax but the plot is based on maximizing yields and a wide selection of fruit, and vegetables are grown. The main crop vegetables are potatoes, leeks, beans and peas, turnips, beetroot, salads, chard and marrows. Inside the large green house there is an established grape vine that trails over the arches of the roof and reliably produces 500 bunches of black desert grapes each year. Underneath are beds of tomatoes and cucumbers, peppers, garlic and herbs. There is also a fig tree, a nectarine and an apricot. In the peach house is a ten year old tree trained along the roof trusses which produces beautiful blossom and dozens of fruits each year. This greenhouse also has beds of parsley and basil, and will eventually lead into the new workshop which is under construction.
Herbal Produce
For years the gardens have provided fresh herbs for the kitchen and medicinal plants for use in traditional preparations. These include apple mint, peppermint, marjoram, lemon balm, sage, thyme, vervain, elecampane, valerian, sweet cicely, lavender, borage, St John's wort, yarrow, comfrey, chives, sorrel, chamomile and calendula.
Our herbs are hand-picked and dried each summer under the supervision of qualified herbalists and there is a range of teas, ointments and lotions available in the shop.
New Developments

New Workshop Greenhouse
The workshop has been modelled on the old shed and has a simple eco-design, i.e. green oak post and beam, and reclaimed slate roof construction. Construction of the external frame is nearing completion thanks to the hard labour of committed volunteers donating time and expertise, and to grants from the EU funded Leader+ Programme, the Big Lottery Fund, the MacRobert Trust and private donors.


The Green Tara Medicinal Herb Garden
The Green Tara Garden for medicinal herbs has been designed by Dr. Akong Tulku Rinpoche and is located in the meadow towards the old farm. Viewed from above this will be a 20 petal lotus flower built in mortared stone with a diameter of some 30 yards. The magnificent 15 feet high statue of Green Tara at the centre of the garden has been finished and the first quarter section is being conditioned to be made into beds for herbs.
Courses

Our courses are lead by Tony Freck, an experienced and knowledgeable tutor with over twenty years experience in production horticulture. Courses consist largely of practical work to give you the hands-on experience of traditional organic methods, with time to go over the theory, and handouts to take home.

We offer a variety of courses: