Visual Guide
ghkjhgl
Purelands Retreat Centre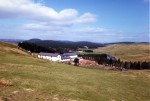 Set among the rolling hills of the Esk Valley and a short walk from the main Samye Ling centre, Purelands is a purpose-built retreat centre that provides the ideal conditions for meditation and retreat in a tranquil environment. Purelands offers a range of 8-day retreats throughout the year. These retreats offer people the perfect opportunity to practice away from the distractions and demands of daily life...
The Tibetan Tea Room/Cafe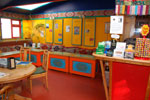 The warm, inviting atmosphere of the Tibetan Tea Rooms with its traditional decor provides a comfortable place to relax. It is open daily from 9am to 5pm and also from 8pm until 10pm on the weekends serving a wide range of beverages and snacks.
Samye Ling Shop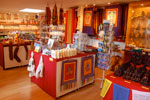 The Shop has an extensive range of books, texts and ritual objects. The statues are particularly fine and are directly imported from shops and workshops in Nepal. Also available are gifts and crafts sold on behalf of Rokpa charities. The shop is open daily from 9am to 5pm, closing for lunch between 12.30 and 1.30pm. For more information visit www.samyelingshop.com Tel: 013873 73337 Email: sales@samyelingshop.com
The Naga House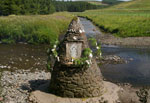 This stone structure in the River Esk is embedded with semi-precious stones and was built as an offering to the nagas or water spirits who dwell at the junction between the two rivers. Making offerings to nagas is a way of bringing environmental forces into balance. The point where the two rivers meet is directly opposite the doors of the temple and is very powerful in terms of geomancy. The Naga House also serves a function in balancing the powerful energies emanating from this point.
Mahakala House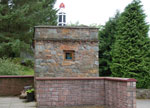 At the back of the temple is a stone building that houses a special protector shrine. Prayers are recited there continuously to ward off and transform obstacles to the practice of the Buddhist teachings. Similar protector shrines are found in Tibet alongside great temples. Visitors are requested not to approach this building or knock on the door as there is a nun there who is in permanent retreat.
| | |
| --- | --- |
| Displaying 1 to 5 of 19 | Previous 1 2 3 4 Next 5 |