Nyung-Nye Shrine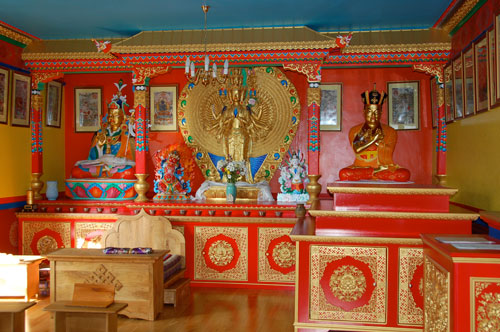 Nyung-nye is a fasting practice done in pairs with eating and drinking on one day and no eating, drinking or talking the next day. During the practice one observes scrupulous moral conduct and takes the Sojong vows each day, which are the basis of the monastic vows. Hence, one avoids killing any living being, one does not take any intoxicants, one is celibate and so forth.

The practice focuses on the visualisation of 1000 armed Chenrezig and is a powerful purification rite. According to a legend, Chenrezig, the Great Bodhisattva of Compassion emerged from a ray of white light that emanated from the right eye of Amitabha, the Buddha of Boundless Light. In the presence of Amitabha he took the bodhisattva vow in which he committed to delay his own enlightenment until he had freed all beings from samsara, the cycle of conditioned existence.  He promised that if he broke his commitment, he would shatter into a thousand pieces. Chenrezig then worked for many aeons to relieve the suffering of beings, but then one day he ascended Mount Meru, the highest mountain in the universe, and looked down over existence. To his dismay he saw that there were still countless beings enmeshed in misery and confusion.  Overwhelmed with sadness, he felt that his bodhisattva mission was pointless, and resolved to give it up and rest in the peace of nirvana. This broke his commitment, and consequently, he immediately shattered into a thousand pieces, experiencing intense agony in the process. Amitabha looked down with compassion on his creation.  Through his grace, he made Chenrezig whole again, but this time into a form with 1000 arms and eleven heads. Even more powerful than before, Chenrezig now had an eye on each hand so that he could look on beings in every direction, respond to their prayers and relieve their suffering. He then took the bodhisattva vow again, this time with even more vigour and commitment. 
In honour of his compassionate activity, we do the Nyung-nye practice, addressing our prayers to Chenrezig in his 1000 armed form.