Nagarjuna Statue in Pond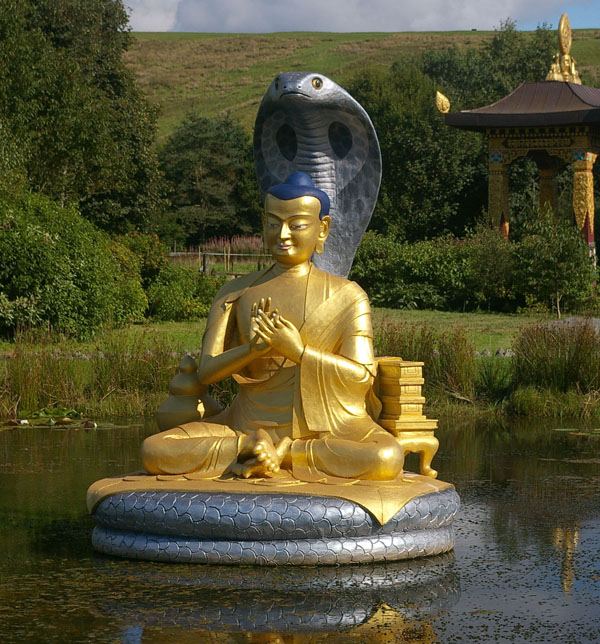 Nagarjuna was a great Mahayana master who lived in the First Century AD in India. According to the legends depicting his extraordinary life, he travelled to the land of the nagas or water spirits, and there he discovered the 18 volumes of the Prajnaparamita Sutras. These teachings, of which the Heart Sutra is part, are the classic teachings of emptiness and transcendent wisdom within the Mahayana Buddhist tradition. The nagas had been entrusted with guarding these teachings ever since the time of the Buddha. Nagarjuna then taught the nagas the path of the Buddha and, as a gesture of gratitude and devotion, they acted as his protectors.
The king cobra rising up behind Nagarjuna is the king of the nagas and is protecting him from rain and sunshine. This is reminiscent of an older story of the Buddha wherein once when the Buddha was practicing meditation, it began to rain and a king cobra rose up behind him and used its head to shield him from the rain and fierce elements.
Once Nagarjuna returned from the land of the nagas, he wrote a commentary on the Prajnaparamita, which subsequently became the basis for the Madyamika school. Guru Rinpoche then took these teachings with him to Tibet where they formed the philosophical basis of all the schools of Tibetan Buddhism. The two main sources of the Mahayana tradition are Asanga and Nagarjuna. Asanga introduced the practices of the Bodhisattva and Nagarjuna the Madyamika view of emptiness.
The statue conveys several different symbolic meanings. All snakes and fish are seen as symbolic of nagas; so Nagarjuna is located in a lake filled with fish and is protected by a cobra. He is seated on the coiled body of the snake, whose body acts as a parasol, to show that the nagas are respectful of him and wish to serve him. The books to his left are the Prajnaparamita Sutras. The vase to his right is a vessel for storing his monastic possessions. According to the accounts of his life, he kept his monastic vows perfectly.  Consequently, he is also wearing the robes of a fully ordained monk. The hand gesture or "mudra"  is the mudra of teaching. It indicates that he is instructing  the nagas in the Dharma (the teachings of the Buddha.)  His legs are in the bodhisattva posture, which is symbolic of his love and concern for all living beings.