Chod Puja - Choje Akong Tulku Rinpoche's 72nd Birthday Celebrations
May 16, 2012
The 6th of May, saw the 72nd birthday of our founder Choje Akong Tulku Rinpoche.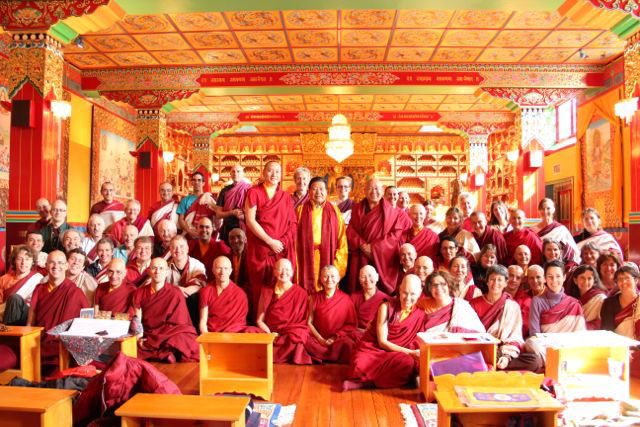 For the two days leading up to that special day, the Temple resonated with the sound of Chod drums as over 50 previous long retreatants came together to do Chod practice as a celebration and offering to Rinpoche on this special day. We were honoured to be joined by all of our four western Lamas - Lama Zangmo (who was the chant leader for the weekend), Lama Jinpa, Lama Tsondru and Lama Rinchen, as well as monks, nuns and laypeople who have all completed a long retreat. We were particularly happy to have with us a large group of our Spanish dharma brothers and sisters who recently emerged from their second four-year retreat.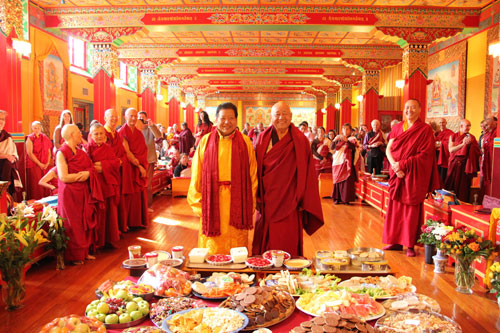 On Sunday the 6th, after the final session of Chod, we made the traditional offering of Body, Speech and Mind to Akong Tulku Rinpoche. An elaborate Mandala offering was made by Khenpo Damcho Dawa Rinpoche, who had just joined us to begin his teachings in Samye Ling, before Lama Yeshe Losal Rinpoche, assisted by the four Lamas, offered the symbols of Body, Speech, Mind, Qualities and Activity. The three hundred people who attended then each presented a Kata to the Buddha and Akong Rinpoche while Kating Lama led us in reciting Rinpoche's Long Life prayer.
Everyone then left for a special birthday lunch and to share the generous Chod Tsok offering in the dining room.
The day ended with Akong Rinpoche bestowing the Vajrasattva Initiation of the peaceful and wrathful deities of the Bardo.
We hope that all those who attended the weekend enjoyed it as much as we did. It is our pleasure to announce that we plan to make this an annual event and so hope to many more of you at the same time, same place next year!
Home / General // Search // Submissions