Khenpo Damcho Dawa Teachings
June 7, 2012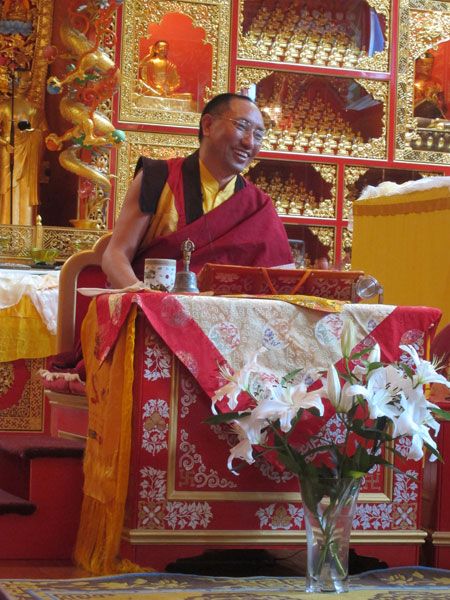 I have just had the good fortune to spend three weeks in the presence of Khenpo Damcho Dawa Rinpoche, receiving teachings at Samye Ling that will stay with me for the rest of this life...and hopefully many others!
During the first week Rinpoche taught from chapter six of Shantideva's "The Way of the Bodhisattva"Ě, which focuses on Forbearance. I initially thought that Forbearance was about developing patience - how wrong I was!† These teachings were about anger and using it to work directly with difficulties that we face in life in order to cultivate Bodhicitta.
Having attended these teachings I now feel optimistic and totally inspired to develop Bodhicitta and see it as a fantastic opportunity to work with my own anger and overcome the suffering that accompanies it - onwards and upwards!
The second week saw Khenpo teach on Buddha Amitabha and Dewachen. This was a week full of Prayers, chanting, beauty, sound, magic, colour and heart. I now know where Dewachen is, what it looks like, what can be achieved there and where I'm headed.
The final week - The Treasury of Space: The practice of Powa.† I can't really express what receiving these teachings was like, except that they were extremely profound and moving.
I attended the teachings given by Khenpo last year when he was at Samye Ling and realised how lucky we were to have such a warm, kind-hearted, wise and compassionate teacher with us. His work in Tibet is so valuable as he is involved with running a Tulku college and an orphanage that he founded. He also has many other commitments and only returned for these teachings because our own Akong Tulku Rinpoche (out of his care for us) applied 'some' pressure.
What a great privilege to have a teacher of Tulkus, teaching us!† I only hope with all my heart that he can come back again and although I feel a little selfish in requesting this, I hope that our Karma and connection with him makes this come true.
Marina Vundum
Home / General // Search // Submissions