Samye Project Update - July 2012
July 31, 2012
The structure of the completion phase was finished and made wind and watertight at the end of 2011. The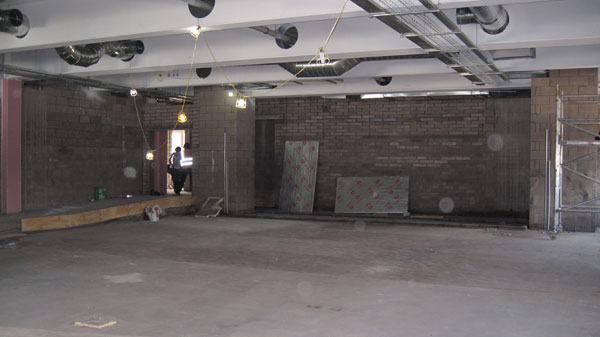 detailed design of the interior was refined and finished off during the first half of this year. We have now engaged a construction company called Ashleigh Ltd to carry out a rapid final fit out on the new building. This work involves the wiring, plumbing, heating, ventilation, lift installation, wall and floor finishes and decoration. The building should be finished and ready for occupation by November or December this year. Samye Ling will then take over the completed building and will finish off the interiors of the two new Shrine Rooms on the first floor and put in furniture ready for the accommodation and facilities to come into use.
This final fit out contract is now well underway. There have been 25-30 people on site each day, including  a number of  Samye Ling volunteers working on the attics and on the yorkstone paving in the courtyard. The new facilities will include a reception, administration office, exhibition room, library, audio visual studio, Tara Shrine Room, Mahakala Shrine Room, archive store room, conference room, lecture hall and accomodation.
The building site is now a busy hive of activity. The courtyard, half the front, back and north sides of the temple are now
paved with new pale, sand coloured stone. This work will continue for another two to three months until the whole paved area around the temple is completely renewed with yorkstone slabs.
Anyone interested to learn more about the Project should email me at
david@hayward-co.com
I will do my best to respond directly or will pass your queries to those better able to help.
David Hayward 25-7-2012
Home / General // Search // Submissions