News Stories / General
October 9, 2013
Akong Labrang Memorial Fund
To all the dear friends of Choje Akong Tulku Rinpoche, The tragic news of Choje Akong Tulku Rinpoche's sudden death has deeply affected everyone who knew him....
Prayers for Akong Tulku Rinpoche
Following the advice of Chamgon Khenting Tai Situpa, here in Samye Ling we will be doing Milarepa Guru Yoga for Choje Akong Tulku Rinpoche for 49 days...
October 8, 2013
News of Akong Tulku Rinpoche
I am very, very sorry to inform you all that tragically, my brother Choje Akong Rinpoche, my nephew and one monk who was travelling with then, were all assassinated in Trengdu today. Rinpoche's body has been taken to hospital where a post mortem will be carried out. That is all the news I have so far. If I receive further news I will let you know....
August 29, 2013
Guru Rinpoche Shrine
Kagyu Samye Ling is to have seven shrine rooms: the main temple as well as individual shrine rooms for Medicine Buddha, Mahakala, Tara, Guru Rinpoche, Chenrezig and Amitabha...
August 26, 2013
Tea Party and Open Day - 11th August 2013
Our annual tea party on the 11th of August was a great success...
August 20, 2013
Samye Ling Garden Needs Your Help!
The garden has had a glorious summer but has been left to get somewhat overgrown this year - much to the delight of the local wildlife! Now, it is time to tidy it up for winter...
June 30, 2013
Monthly Teaching, A Talk on How to Practice by His Holiness the 17th Gyalwang Karmapa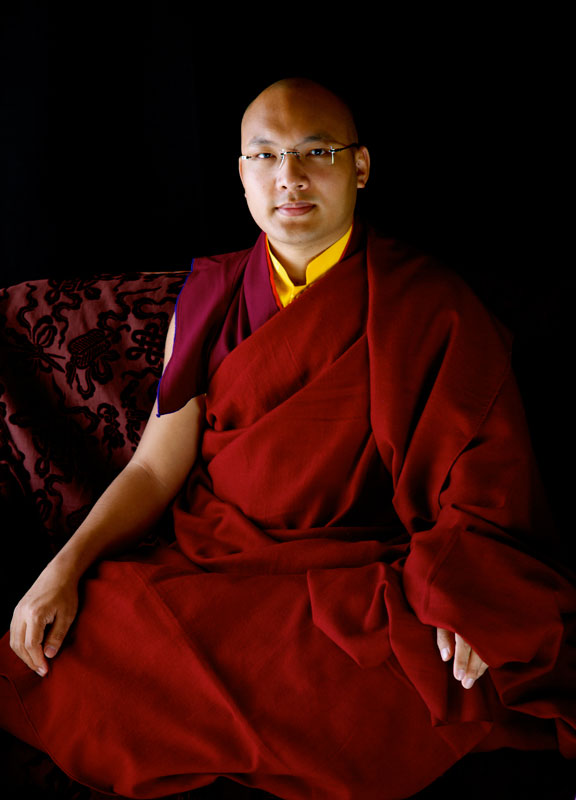 On Wednesday the 26th of June we celebrated His Holiness the 17th Gyalwang Karmapa, Ogyen Trinley Dorje's, birthday with the traditional 'Neten Chachock' prayers and offering of Katas in the Main Samye Ling Shrine Room. To celebrate this occasion we share with you a teaching from His Holiness on the subject of how we should practice...

"One should first listen to and contemplate the Dharma appropriately through scriptures and then make the practice of the meaning one has studied into the essence. This is the general way to uphold the teachings. The Buddha, out of kindness, said not once but over and over that his followers should emphasize practice, and uphold, preserve, and propagate the teachings of realization properly. Doing this is extremely important..."
You can read the full article online by clicking here
Annual Tea Party and Open Day
Choje Akong Tulku Rinpoche, Lama Yeshe Losal Rinpoche and the entire Samye Ling Community extend a warm invit ation to you to come to our annual Tea Party and Open Day on Sunday the 11th of August, between 2pm and 5pm. Everyone is welcome to come and wander our grounds, browse our shop, sample the refreshments and enjoy the entertainments as well as take part in ROKPA's traditional Tea Party Auction. We look forward to seeing you all then.
Christmas and New Year Retreat with Ken and Katia Holmes
This year we are pleased to offer a Christmas and a New Year Retreat with Ken and Katia Holmes. The Christmas Retreat will focus on 'How Bodhisattvas Transform Emotions' and will take place from the 24th to the 29th of December. The New Year Retreat, from December 30th to January 4th, will look at 'How Bodhisattvas Face Change and Death'. Everyone is welcome to join one or both retreats. To find out more or book a place on our Christmas Retreat please see here and to read more about the New Year Retreat please see here .
Kagyu Samye Ling Monastery and Tibetan Centre Facebook Page
Join over 2200 people and keep up to date with all the latest news, photos and events from Samye Ling on our Facebook page. Sign up and 'like' us by clicking here
June 8, 2013
Thank You Message From Lama Yeshe Losal Rinpoche
I would like to thank each and every one of you who helped me celebrate my 70th birthday, either by coming to Samye Ling or sending me a present or a message...
June 4, 2013
Celebration of the Buddha's Enlightenment and Parinirvana and Lama Yeshe Losal Rinpoche's 70th Birthday
Saturday the 25th of May saw two very special celebrations in Samye Ling – both Saga Dawa, the Enlightenment and Parinirvana of the Buddha, and the 70th birthday of our precious Abbot, Lama Yeshe Losal Rinpoche...
May 9, 2013
Choje Akong Tulku Rinpoche's 73rd Birthday Celebrations
On Monday the 6th of May we celebrated the 73rd birthday of our precious founder, Akong Tulku Rinpoche.
Celebrations started on the 3rd of May when around thirty participants from previous long retreats gathered together to practice the long Chod. With its hauntingly beautiful melodies, Chod is one of the most profound and entrancing Buddhist practices. The effect of all practitioners joining together was quite spectacular - a fitting tribute to a truly special being.
On the morning of Monday the 6th of May a temple full of Rinpoche's devoted sangha and students joined together to chant the 'Prayer to the 16 Elders' and make the traditional offerings of body, speech and mind. A mandala offering was made by Lama Zangmo and Lama Rinchen before Lama Yeshe Losal Rinpoche offered the symbols of Body, Speech, Mind, Qualities and Activity. All those in attendance then offered a Kata to the Buddha and Akong Tulku Rinpoche while Kating Lama and Tulku Orgyen Rinpoche led us in reciting Akong Rinpoche's long life prayers.
A special birthday lunch was held in the dining room where Rinpoche was joined by many friends and family for birthday speeches and cake!
The day ended with Akong Rinpoche bestowing the Vajrasattva initiation, during which Rinpoche gave a heart-warming and inspiring dharma talk encouraging all those present to be mindful of how they act with body, speech and mind.
We hope that everyone who attended enjoyed the celebrations as much as we did and hope to see you all again next year!
Home // All Sections // Search // Submissions // Subscribe (RSS)