News Stories / General
October 2, 2012
Review of this year's Mahayana Uttaratantra Shastra Shedra Studies Course
This year's Shedra studies were on the Mahayana Uttaratantra Shastra or Ultimate Mahayana Treatise on the Changeless Continuum by Maitraya/Asanga. This is the definitive text on Buddha Nature, and is studied in all Tibetan traditions as well as other Mahayana schools...
September 22, 2012
Dumfries and Galloway's Doors Open Days: 29th and 30th September 2012
As part of the annual Dumfries and Galloway Doors Open weekend we invite you to visit our centre and stroll the grounds on your own or take a guided tour around the site to learn a bit about the temple, college, stupa and various gardens...
September 4, 2012
Ven. Abbot Lama Yeshe Losal Rinpoche's 70th Birthday Celebrations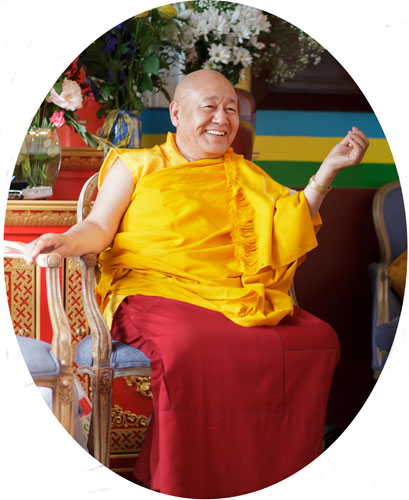 Lama Yeshe Rinpoche celebrates his 70th birthday next year. To mark this great occasion we are putting together a book of his teachings along with a record of all the wonderful things he has made happen over the last 40+ years, which will be presented to him at his
birthday celebrations on May 25th, 2013
.
Do you have a particular memory you would like to share, or an old photograph we could use? We can't promise to use everything, but we will try to include a varied selection of memories from many different people. If you would like to contribute, contact Hilary Hawker on
hilaryhawker@gmail.com
.
July 31, 2012
Samye Project Update - July 2012
The structure of the completion phase was finished and made wind and watertight at the end of 2011. The detailed design of the interior was refined and finished off during the first half of this year...
July 19, 2012
Help turn the Eco-Cabin into an educational resource for visiting schools
The Eco-Cabin is now ready to use but is looking very bare. Our aim is to fill it with activities and resources that school groups of all ages can enjoy. To make this a reality we are looking for donations of good quality items that you may have but no longer use...
June 19, 2012
His Holiness the 17th Gyalwang Karmapa's Birthday Celebration
On the 26th of June we celebrate the birthday of His Holiness the 17th Gyalwang Karmapa, Ogyen Trinley Dorje, by reciting the traditional 'Neten Cha Cho' prayers - Homage and Praise to the 16 Elders...
June 7, 2012
Khenpo Damcho Dawa Teachings
I have just had the good fortune to spend three weeks in the presence of Khenpo Damcho Dawa Rinpoche, receiving teachings at Samye Ling that will stay with me for the rest of this life…and hopefully many others...
May 24, 2012
Enlightenment and Parinirvana of Buddha Sakyamuni
On the morning of Monday the 4th of June, the Samye Ling community will join together to celebrate the Enlightenment and Parinirvana of Buddha Sakyamuni...
May 16, 2012
Chod Puja - Choje Akong Tulku Rinpoche's 72nd Birthday Celebrations
The 6th of May, saw the 72nd birthday of our founder Choje Akong Tulku Rinpoche. For the two days leading up to that special day, the Temple resonated with the sound of Chod drums as over 50 previous long retreatants came together to do Chod practice as a celebration and offering to Rinpoche on this special day.
May 10, 2012
Kagyu Samye Ling Monastery and Tibetan Buddhist Centre Facebook Page
We would like to invite you all to join our new look facebook page - Kagyu Samye Ling Monastery and Tibetan Centre...
Home // All Sections // Search // Submissions // Subscribe (RSS)