Hanna Casement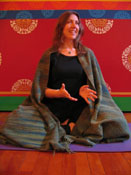 Hanna has been practicing and studying yoga for the last 23 years, and is a fully qualified registered teacher with the Scottish Yoga Teacher's Association (now Yoga Scotland).

Having originally trained in Hatha Yoga, Hanna has continued training in other styles of yoga, including Viniyoga, Vinyasa Flow, and Scaravelli style yoga, all of which contribute to her own style of teaching. During her ongoing studies she has been fortunate enough to learn from some of the leading yoga teachers around the world.

Hanna has a long term connection with Samye-Ling since she moved here in 1992 in order to further her studies and practice of meditation and yoga. She teaches regular yoga classes in Cumbria and Scotland, and teaches weekend workshops throughout theyear.

In addition to her yoga teaching Hanna is also an Advanced Practitioner of Traditional Thai Yoga Massage. She has also trained in ear acupuncture and has completed an Advanced Foundation course in Tibetan Medicine.
This holistic background of knowledge comes through in Hanna's teaching, as she helps students to become more aware of how they can have a greater sense of well being as they practice their yoga, by being more aware of how our energy flows throughout the body.
Hanna's primary focus in her teaching is allowing people to regain confidence in their bodies by developing a sense of fluidity in their yoga practice which allows for a greater sense of freedom in the body.
Hanna Casement has 3 upcoming courses