Drupon Rinpoche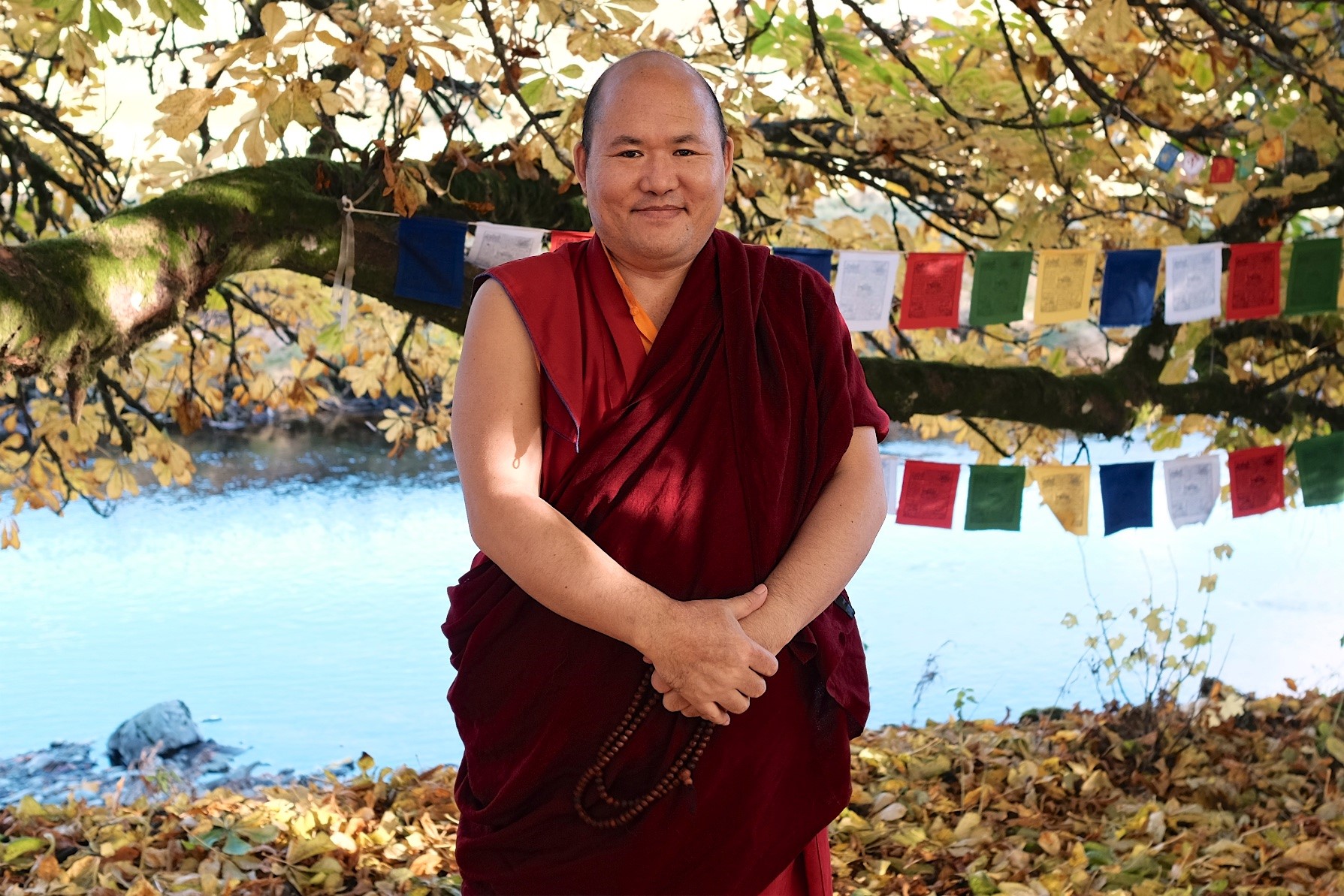 As a child Drupon Khen Rinpoche Karma Lhabu was always very concerned for others and especially protective of animals.
At the age of seven, he started to receive training in Tsabtsa monastery, learning the rituals and procedures for many of the vajrayana practices. At fourteen, Rinpoche went forth and took novice ordination from Khenpo Palga.
A deep renunciation for the mundane pre-occupations of everyday life filled his heart when he was around seventeen years old and so he decided to go to retreat. He was given the opportunity to enter one of Tsabtsa Monastery's retreat centres, in which a cycle of retreat was due to start when he was eighteen. Being eager and unable to wait, Rinpoche went to practise in a hut at the edge of the retreat centre's boundary. Here he received teachings from the retreat master, Drupon Rinpoche Karma Sherab, and from Lama Senge, and he practised the preliminaries before entering the retreat centre proper a year later.
These two lamas were exceptional yogi meditators who had spent decades in solitary mountain retreats. They took a special interest in Rinpoche, this young and diligent monk who soaked up everything they taught. Drupon Rinpoche Karma Sherab gave the instructions to Rinpoche and the other lamas for the formal retreat practices; and Lama Senge would meet with Rinpoche often, answering his questions and offering words of advice. Through their conversations Rinpoche came to fully understand meditation and the mind; making Lama Senge his root lama. His rapid development of meditative understanding, experience and realisation impressed his lamas greatly and they composed songs of praise and joy about their beloved heart son.
Although he was still young, the abbot of Tsabtsa Monastery, Drubgen Rinpoche, together with these lamas, appointed Rinpoche as the retreat master for the next cycle of retreat. The monastery decided that the retreat centre should follow the more traditional Karma Kamtsang retreat programme, so they sent Rinpoche to Drupon Rinpoche Yeshe Junge of Palpung to receive the necessary transmissions.
After his lamas had passed into nirvana Rinpoche went to receive teachings from the revered Khenpo Jigme Puntsok Rinpoche, from the Dzogchen guardian, Khenpo Munsel, the highly learned Khenpo Pentse, Adzom Drukpa Rinpoche, the Milarepa-like Khenpo Choying Kunkhyab, Khenchen Tsultrim Lodro, Khenchen Chime Rigzin, Khenchen Sherab Zangpo, to name a few.
Having received such a wealth of teachings Rinpoche then went to reside at Thrangu Vajra Vidya institute in Varanasi. Here he gave teachings on the treatises to the shedra students before Khenchen Thrangu Rinpoche asked Drupon Rinpoche to become the retreat master for Thrangu Sekhar Retreat Center, a newly built retreat centre at a Milarepa pilgrimage site near Bhaktapur, Nepal. He has also taught in the Thrangu Monastery Shedra (a Buddhist college) and in the nunnery, Thrangu Tara Abbey.
To date there have been eight cycles (with eight lamas in each cycle) of retreat at Thrangu Sekhar Retreat Center.
At Lama Katen's suggestion, Rinpoche was invited to Kagyu Samye Ling monastery in the UK. Akong Rinpoche and Lama Yeshe Losal Rinpoche requested Rinpoche to devise and teach a part-time shedra course at the monastery and to be the retreat master for the retreat centres on the Isle of Arran and Holy Isle. To date, he has been the retreat master for one four year cycle of retreat and presided over a six-year shedra programme. Rinpoche continues to guide the retreats and gives teachings in Samye Ling annually.
In 2015 Rinpoche founded the Marpa Translation Society with the aspiration to make many of the untranslated Buddhist teachings accessible and affordable for those who genuinely seek them. To this end Rinpoche has been training translators and offering guidance to those who can translate already. Rinpoche often reminds the translators that the dharma is more than just words, and if their translations are to carry the feeling and blessing of dharma it is imperative that, first and foremost, they themselves become true dharma practitioners.
Drupon Khen Rinpoche spends most of his time training practitioners at Thrangu Sekhar Retreat Centre in Nepal. At present it holds a community of around one hundred retreatants, young and old: thirty monks and nuns from Thrangu Gompa and the Himalayan region, and over seventy international students from 25 different countries. Rinpoche devised a six-year retreat programme especially for the international students. This consists of a year concentrated on each of the following practices: the mahamudra preliminaries, mind training, vajrasattva, calm-abiding meditation, insight meditation concerned with thoughts, and insight meditation concerned with appearances.
Rinpoche now limits the amount of time he travels abroad to three months a year because he feels it is more beneficial to stay in one place training a dedicated group of students.  During this time abroad, he regularly visits the UK, Taiwan, Hong Kong, Japan, and also travels to Southern Africa and North America.
Since 2018, at the request of Thrangu Shedra, Rinpoche also spends several days a month at Namo Buddha teaching and giving advice to all the Shedra Khenpos and students.
Written by Kunga
14.05.2018
For more info please visit druponrinpoche.org
Drupon Rinpoche has 1 upcoming course