Visiting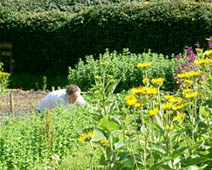 NOTICE
As a result of the Coronavirus pandemic and the recent government recommendation to stop non-essential contact and unnecessary travel, Samye Ling will close from 20th March 2020.
We will be closed to all guests and visitors and all courses and retreats are cancelled until further notice.
Only essential deliveries and essential services will be allowed access to Samye Ling.
We ask for your understanding of any inconvenience this may cause you.  We sincerely hope that this will be a short-term measure and we will be able to open our gates again in the near future. Meantime our prayers are with you all, especially those affected by the virus.
Samye Ling is situated in Eskdalemuir in South West Scotland, 15 miles from Lockerbie. We are 2 hours drive from both Glasgow and Edinburgh airports and there is a rail link to Lockerbie from all major British towns and cities. Once you arrive in Lockerbie there is a bus and taxi service to Eskdalemuir. For more information see Getting Here. 
Day Visitors
Day visitors are welcome to visit Samye Ling, no charge, all year round. You can visit the temple, which is open daily from 6am until 9pm, and you are free to stroll around our peace garden and grounds at any time of the day. You can also relax in the Tibetan Tea Rooms, which offers a wide variety of drinks, snacks and small meals, and you can visit our recently extended Shop, both of which are open daily.
Group Visits
Groups wishing to visit Samye Ling for educational reasons, such as schools, universities or other groups, must reserve a guided tour.  We regret that groups may not bring their own guide and must make a booking.
Please see Guided Tours.
Staying Overnight
For overnight guests the accommodation includes single rooms, twin rooms, dormitories or camping spaces. Please book online at least 24hrs in advance. On arrival, please check in at reception after 1.30pm to receive your room keys and guest information. For arrivals after Reception has closed information will be posted on the Reception door. Check out time is 11am on the day of departure. For more information see Guest Information.
We regret we are unable to accommodate children under 16 or pets overnight. Please click here for independent local self-catering and B&B accommodation.
To facilitate the smooth running of Samye Ling's administration, course participants who stay outside Samye Ling who wish to eat meals in the dining room, pay a flat rate of £10 per day for meals. To book meals whilst attending a course and not staying in Samye Ling accommodation, please use the online booking system and select the room type 'No Accommodation'.
For All Visitors
Please note that smoking (including electronic cigarettes), alcohol and unprescribed drugs are not allowed on the premises. We also request that, in order to protect the many small wild animals here, you do not bring pets when visiting.