Drupon Rinpoche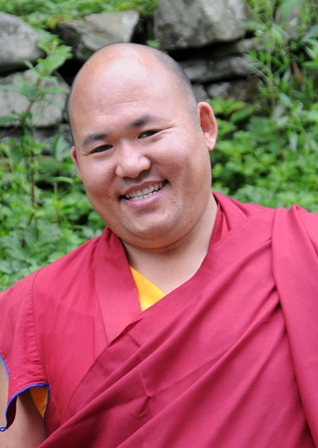 In 1983 at the age of fourteen, Karma Lhabu - who is now known by his title of 'Drupon Rinpoche' (Retreat Master) or as Khenpo Lhabu - took Getsul ordination and studied Buddhist texts, rites and ceremonies under Khenpo Palga. Four years later, aged eighteen, he decided to do a retreat and received all the necessary initiations and teachings from Karma Legden and Retreat Master, Karma Sherab.

After one year Karma Lhabu entered the traditional three year, three month retreat under the direction of the retreat teacher Karma Senge. Karma Senge was impressed by his aptitude and diligence and consequently took a special interest in the young monk. Recognising his special qualities Karma Senge transmitted all his teachings and chose Karma Lhabu to become the future Retreat teacher, or Drupon.

In 1992 Drupon Rinpoche entered another retreat under the direction of Yeshe Jungne Drupon Rinpoche, who also recognised Karma Lhabu Drupon Rinpoche as a great Mahamudra teacher and consequently gave him special instructions. On completion of his retreat, Drupon Rinpoche travelled first to the Nyingma Monastery of Seta, then to other monasteries where he studied the various different schools of Tibetan Buddhism, as well as receiving teachings from Drubgen Rinpoche at Tsab Tsa Monastery. He was subsequently awarded the title of Khenpo.

In 1999 Khenchen Thrangu Rinpoche invited Drupon Rinpoche to his monastery in Nepal where he gave teachings during the summer then during the winter he became resident Khenpo at Thrangu Monastery in Varanasi. He also travelled to Sherab Ling Monastery in northern India where he received teachings from Khentin Tai Situpa and later from His Holiness the 17th Karmapa. During this time Drupon Rinpoche participated in the Karma Gunchi gathering of Kagyu Monasteries where each monastery competes for excellence in Buddhist disciplines such as scriptural debate.

Lama Phuntsok from Nepal then requested Thrangu Rinpoche to allow Drupon Rinpoche to teach at the Shedra of Karma Lekshey Ling Monastery. Accordingly he took up this position in 2001. He was also invited by Khenchen Sherab Zangpo to give teachings and initiations at Karma Choying Kunchab Centre in Singapore and he then travelled to Malaysia and Taiwan, where he established the Chochi Drinpung Ling Centre.

In 2004 Thrangu Rinpoche asked Drupon Rinpoche to return to Nepal and become Retreat Master of the traditional three year, three months' retreat at the site of Milarepa's cave, known as Nyi Shang Ka Te Puk. During that time Drupon Rinpoche was also Khenpo of Thrangu Nunnery and continued to make annual visits to numerous Centres of various traditions in Taiwan and Malaysia.

On completion of the long retreat at Thrangu Rinpoche's Centre, Drupon Rinpoche was invited to Kagyu Samye Ling, as Khenpo and Retreat Master, where he will help to establish a Tibetan Buddhist Shedra, (college) and visit the long term Men's and Women's Retreat Centres on the Isle of Arran and Holy Isle. Drupon Rinpoche has been requested to come to Samye Ling on an annual basis, and in subsequent years is also expected to visit other Samye Dzong and Rokpa Centres.
Drupon Rinpoche has 3 upcoming courses