Ringu Tulku Rinpoche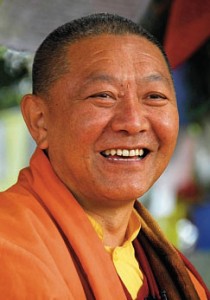 Ringu Tulku Rinpoche is a Tibetan Buddhist Master of the Kagyu Order. He was trained in all schools of Tibetan Buddhism under many great masters including H.H. the 16th Gyalwang Karmapa and H.H. Dilgo Khentse Rinpoche. His formal education was at Namgyal Institute of Tibetology, Sikkim and Sampurnananda Sanskrit University, Varanasi, India and served as Tibetan Textbook Writer and Professor of Tibetan Studies in Sikkim for 25 years.
Since 1990 he has been travelling and teaching Buddhism and Meditation at Universities, Institutes and Buddhist Centres in Europe, USA, Canada, Australia and Asia. He also participates in interfaith and Science and Buddhist dialogues. He is the authour of several books on Buddhism as well as some children's books both in Tibetan and European languages.
Ringu Tulku Rinpoche has 0 upcoming courses